Guest Information
Ceremony | Reception | FAQ

---
The Ceremony
Time:
September 8, 2001 - 2:00pm
&nbsp
Location:&nbsp&nbsp&nbsp
St. Vincent de Paul Church
30525 8th Avenue S
Federal Way, WA
&nbsp
Directions:&nbsp&nbsp&nbsp
Take I-5 to Federal Way
From I-5 take the Federal Way S 320th exit, exit number 143
&nbsp&nbsp&nbsp* For those coming from the South turn left onto 320th at the light
&nbsp&nbsp&nbsp* For those coming from the North turn right onto 320th at the light
Go .7 miles on S 320th to Pacific Hwy (99) and turn right
Go .4 miles on S321th and turn right onto 8th Ave S
Go .3 miles on 8th Ave S, the church will be on the left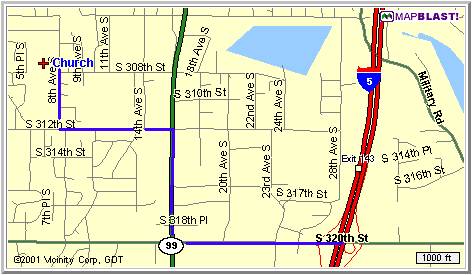 Time:
September 8, 2001 - immediately following the ceremony
&nbsp
Location:&nbsp&nbsp&nbsp
The Vault
17th Floor
1025 Pacific Avenue
Tacoma, WA
&nbsp
Directions:&nbsp&nbsp&nbsp
From Federal Way take I-5 South
Go 9.8 miles on I-5 and take the I-705 exit, exit number 133, North towards Tacoma
Follow I-705 to the South 15th Street/Pacific Avenue exit
At the light turn right onto Pacific Avenue
Go .2 miles on Pacific Avenue, The Vault will be on the right (corner of 11th and Pacific)
Once parked take the elevator to the 17th floor

---
Frequently Asked Questions
Q: Where have you registered?
A: We have decided not to register for gifts. We are well established, especially since we have combined two households, and we are not in need of anything. The focus of our wedding day is on the beginning of our married life and sharing that with family friends. If you wish to commemorate the start of our married life with something special from your heart we would be touched by your gift. Please consider making a donation to your favorite charity in lieu of gifts. Some of our favorite charites are The American Cancer Society, The Leukemia and Lymphoma Society and The Alzheimer's Association.
Q: Are you having a full Catholic Mass for the ceremony?
A: Yes. Having a mass with the ceremony is important to us and we would like to share this special event with our closest friends and family. The mass will blend in with the ceremony and you don't need to be Catholic. We will have programs that will help you follow along. Also, because we are having instrumental music only and because the number of our guests is small, the entire mass and wedding ceremony should only take about 45 minutes to complete.
---
Home