Sydney Trip - Jamie's Adventures
---
On May 25 I boarded a plane for San Francisco and from San Francisco I was off on the longest flight of my life (14 hours) and my first international trip other than Canada. I was off to see David in Australia! I landed in Sydney very early on the morning of May 27 and was so happy to finally see David. I barely had time to get settled before David and I headed out to tour around Sydney.

It may have been holiday (Australian for vacation) for me, but David had to work. I rented a cell phone, or mobile as they call it in Sydney, in case I got lost - which I did, twice - and set out to see the sights while David was at work. I shopped, I walked, I toured, I was very busy taking advantage of the adventure.
---
The first picture is of me at Circular Quay. I had taken a picture of a very large family from Japan and then they offered to take my picture. There were so many people from so many different countries, speaking many different languages. It was very interesting. Also, strangers taking each other's pictures was pretty common. I probably took more pictures of other people with their cameras than I took with my own, and that's saying something. "Will you take my picture?" seems to be an international language.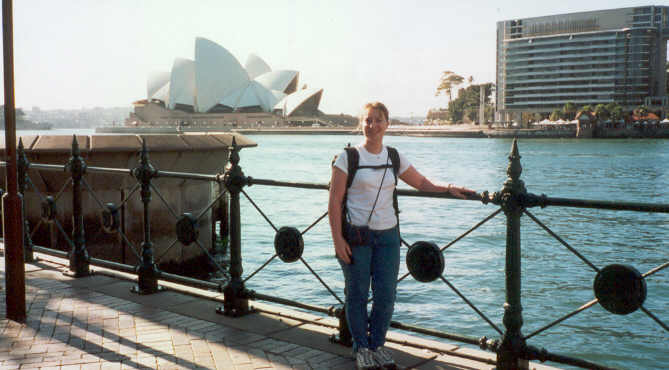 Jamie at Circular Quay
---
The next two pictures feature my tour through the Botanical Gardens. It was a beautiful garden situated on the harbour, right near the Opera House. I loved the trees. They were huge and so amazing to look at. I met a very nice couple from Perth along my walk. They took the picture of me with the Harbour Bridge in the background.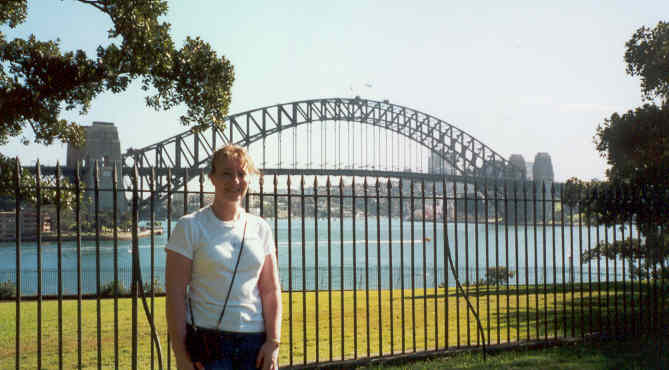 Jamie at the Botanical Gardens

Fig Tree at the Botanical Gardens
---
The Sydney Aquarium was pretty impressive. The picture below shows one of the giant aquariam windows into the Great Barrier Reef exhibit. Unfortunately, flashes can't really be used in the aquarium making photography difficult so memory will have to serve. One of the coolest features of the aquarium are these tube-like hallways that go through the water. As you walk through the tube, huge sharks with big teeth swim by and look at you and giant manta rays that are six or seven feet in diameter float over the glass above you.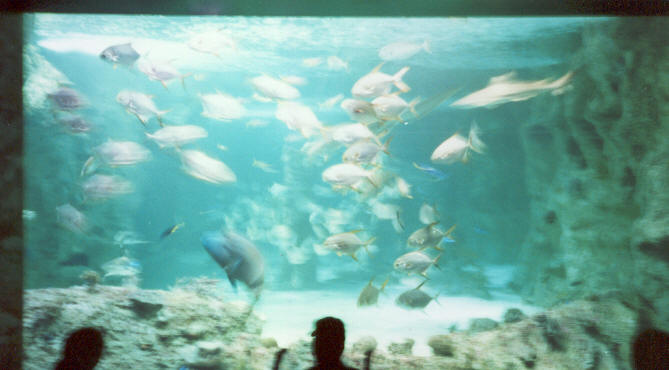 Great Barrier Reef Exhibit at the Sydney Aquarium
---
One of my favorite sites in Sydney was the Chinese Garden in Darling Harbour. It was truly amazing. I almost didn't go in because the entrance didn't look like much. But it was huge and so peaceful. the first picture is of my favorite room in the garden. I enjoyed sitting quietly in this room watching the koi swim and enjoying the tranquil beauty of the garden. The second picture was taken from the Water Pavillion of Lotus Fragrance. You can see why I enjoyed it so much. The last picture is of the Moon Gate in the garden. I wish I had been able to spend more time there, but the stormy weather started to return.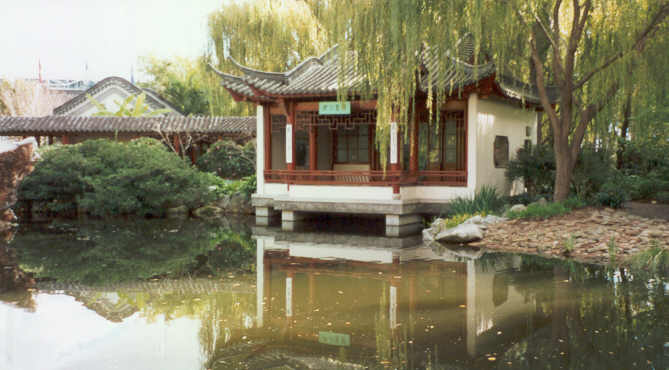 Water Pavilon of Lotus Fragrance at the Chinese Garden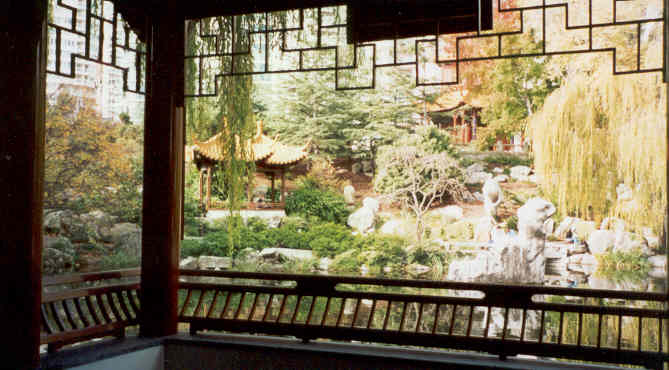 Lake of Brighness at the Chinese Garden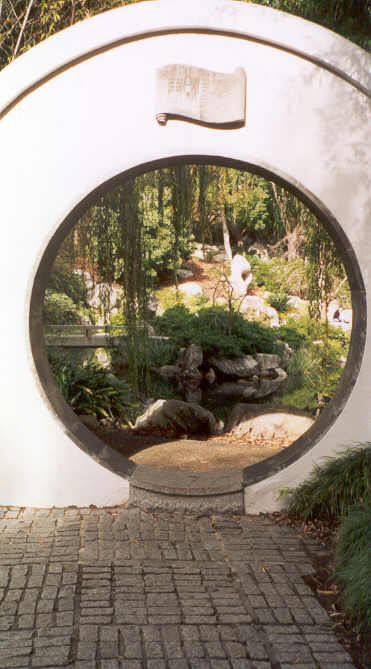 Moon Gate at the Chinese Garden
---
On my second to last day, I was determined to negotiate the trains and get to Bondi Beach and put my feet in the Tasman Sea. I did successfully arrive at Bondi Junction Station, however I walked for seemingly forever in each direction from the station but couldn't find the beach. I just couldn't get the map oriented. So, as my time was ticking away and I still hadn't found the beach, I called David to help get me un-lost. He encouraged me to get in a cab and have them take me to the beach. It turned out to be a $7 cab ride (and that's Australian so it was about $3.50 US). So, I made it to the beach. It is a beautiful white sand beach. There were lots of surfers in the water. Another beach goer took this picture of me. Just off to my right, out of the camera view, the New South Wales Fire Department is extinguishing a blaze started by a fuel spill.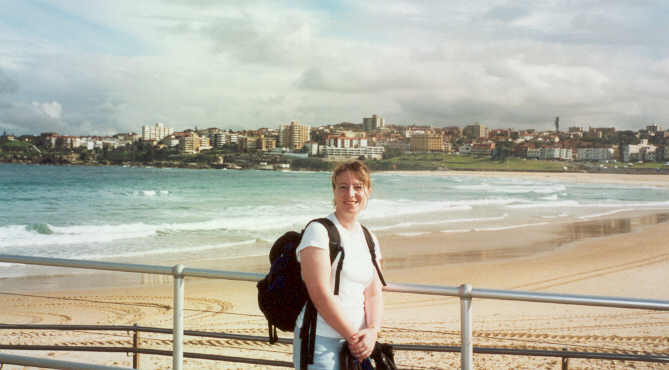 Jamie at Bondi Beach
---
I had a wonderful time on all my adventures and I got the opportunity to talk with so many people from so many places. International travel is definitely something I could get used to. It would have been fun if David had been able to join me on my adventures, but he did have to work. We made sure that we got to share in many other adventures during the week (Fox Studios in the torrential downpour, nice dinners, Warren Miller in June, Hunter Valley and lots of wine to mention a few).
---
Jamie Visit <- Sydney Trip -> Hunter Valley
May 27 - June 3, 2001