Pyramid Peak Hike

Years ago I did a winter camping trip with the Mountaineers and attempted to snowshoe up Pyramid Peak located on the southwest side of Rainier. Due to poor visibility we were unable to find a route up and gave up the attempt. This summer Matt and I were looking for a challenging hike to do and he suggested Pyramid Peak. I was more than happy to do it as I don't like having unclimbed summits. At 14 miles round trip and around 4000' of gain it was a difficult hike, but it also was a spectacular one.

We started the hike off of Rainier's Westside road which had been gated off. The trail had warning signs saying it was unmaintained, but it for the most part it was a fairly decent and well marked trail. The trail soon emptied out into a dry creek bed of Tahoma Creek. Large boulders and downed trees showed signs that the area had experienced heavy floods. Perhaps most of it was from a severe flood in 1996 which had permanently closed the road behind us.

Following cairns we made our way up the creek bed and back into the forest. After a mile or so we joined up to the Wonderland trail. It soon led to a long suspension bridge spanning Tahoma Creek. It was a bit shaky to cross, but felt secure. Once on the other side we passed a couple waterfalls and the forest opened up to flower fields of lupine and avalanche lilies.

Soon we were at Indian Henry's Hunting Ground which was made up of wide open fields and good view of Rainier. The southwest view of Rainier was different from the more common views of the mountain. The jagged side of the mountain looked more like something from the Alps and not of a rounded volcanic summit. As we progressed further through the hunting ground we got a view of Pyramid Peak. This was good as snow was starting to cover up most signs of the trail. We had all but lost the trail at Mirror Lakes (or frozen ponds as we saw them), but Matt used his eagle eyes to find occasional signs or the trail to follow.

We soon made it to the base of Pyramid Peak. From there it was a standard scramble zigzagging up to the top of the peak. At the top we had plenty of space to sit down, enjoy the in your face view of Rainier and have lunch. To celebrate I brought up two bottles of Pyramid beer which tasted great after the scramble.

After our break we headed down and at the same time the clouds starting rolling in. We were fortunate to get the views that we did. The hike back was a bit tough as our legs were getting very sore, but we made it back safely. All in all it was an awesome hike. Surprisingly no one was on the mountain but us. Perhaps the "unmaintained" trails turned people away. If so that's too bad for them and good for us as we had the peak to ourselves.
---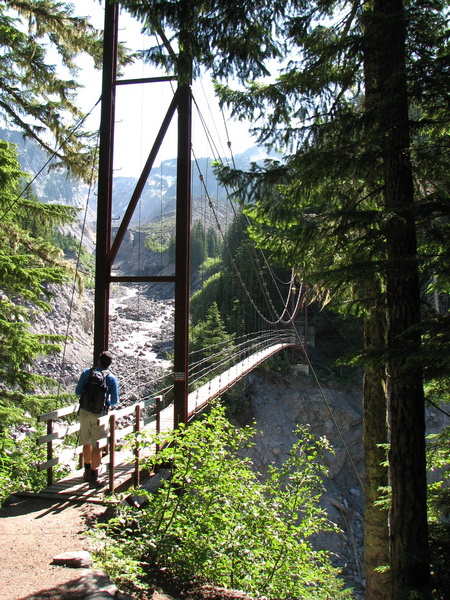 Bridge Over Tahoma Creek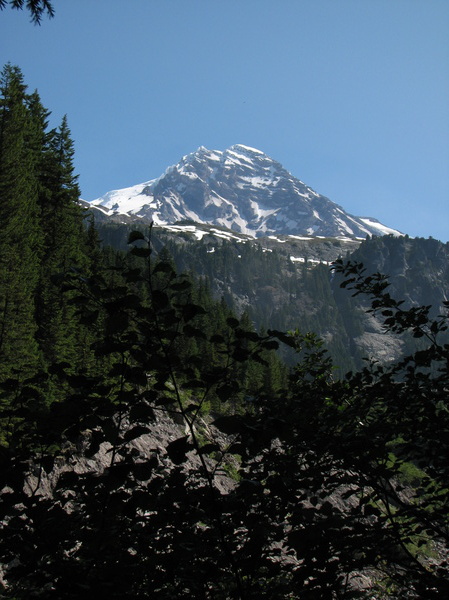 Rainier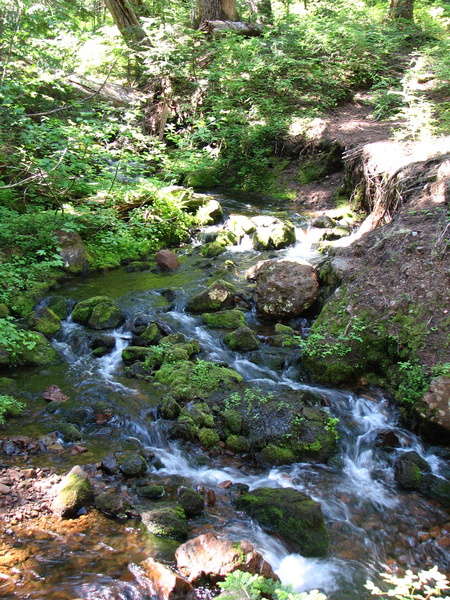 Wonderland Stream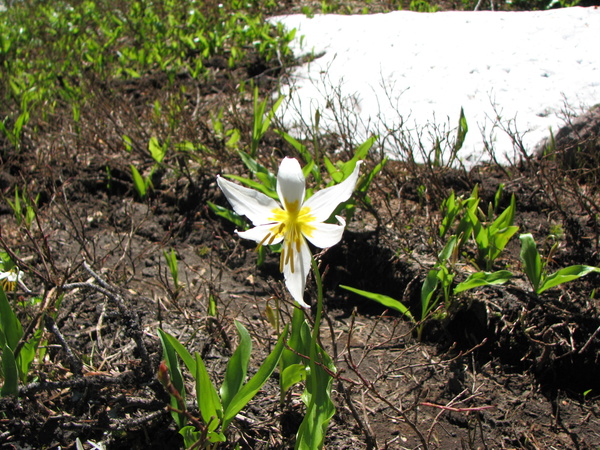 Avalanche Lily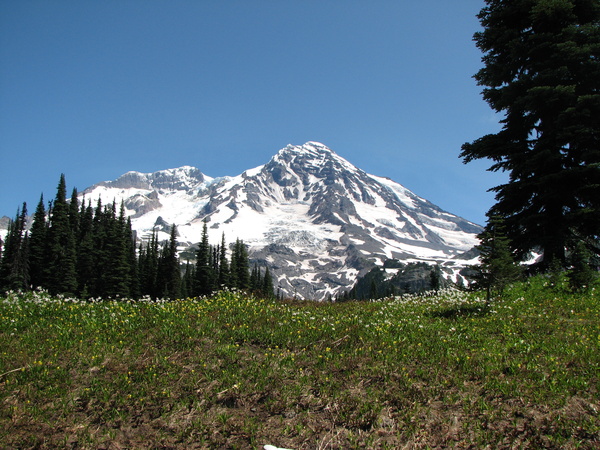 Indian Henry's Hunting Ground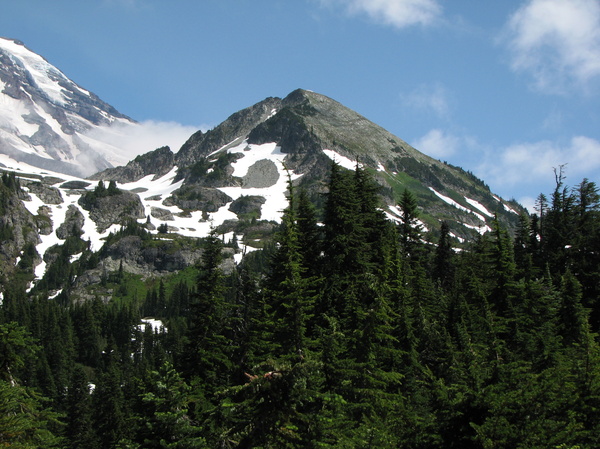 Pyramid Peak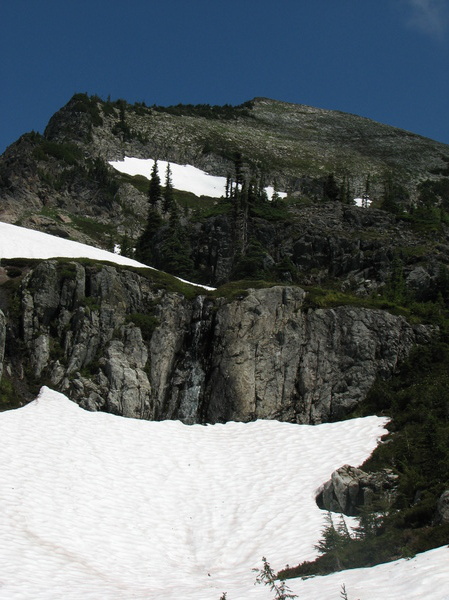 Pyramid Peak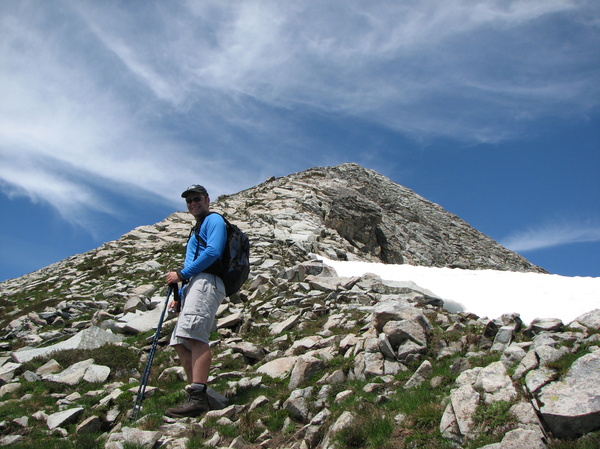 Nearing the Summit

Rainier View from the Summit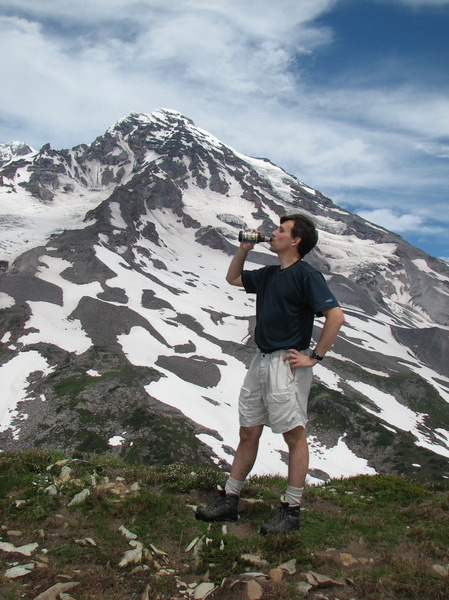 Drinking Pyramid Beer on Pyramid Peak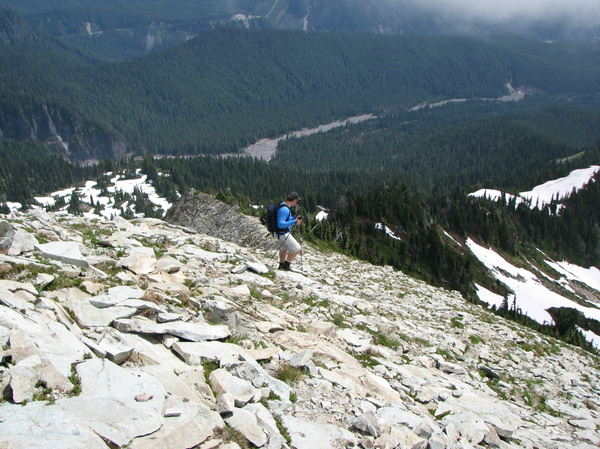 Heading Down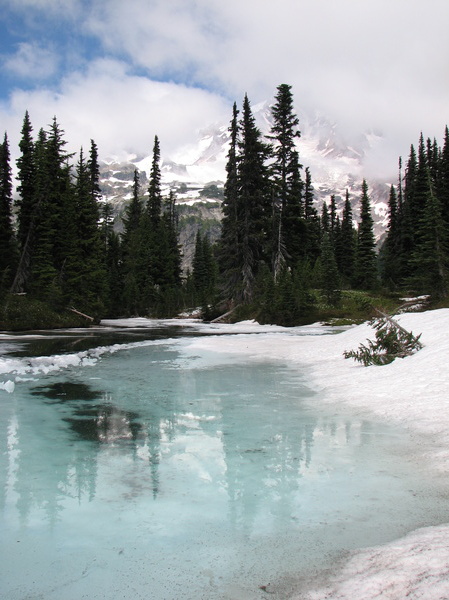 Mirror Lakes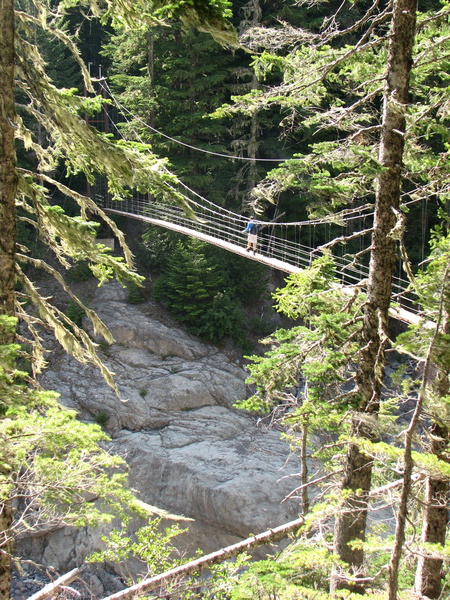 Returning Over Bridge
---
Return to Photo Album Page
July 29, 2012