Ingalls Lake Hike

Due to birth of Vivian and my Java studies my hiking season this year was shorter than desired. I wanted to get in one more hike before the weather turned bad. I decided to give Ingalls Lake a try after reading about it in the paper. My sister and Lily joined me on the hike which is north of Cle Elum off the North Fork of the Teanaway River. Nearing the trailhead we saw the area was packed with cars, apparently I wasn't the only one who got the idea from the paper.

The first part of the hike consisted mostly of switchbacks as we made our way up to Ingalls Pass. At the pass we were greeted by a spectacular view of Mount Stuart which had recently received a dusting of snow. After the pass we traversed a long mile and a half through rocky terrain dotted with larch trees that were turning their golden fall colors. The final assent to the lake involved some rock scrambling which would of been easy if I had not be carrying Lily. Despite the extra challenge we made it up safely.

Ingalls Lake had a beautiful setting with Ingalls Peak rising from its base and Stuart in background. It reminded me of the Enchantment Lakes which were technically close by. It was a bit cold at the lake and Lily was starting to feel miserable (even enough to stop throwing rocks in the lake) so we soon headed back. The return trip was amazingly crowded, sometimes feeling worse than the highway known as Mount Si. I'm surprised so many people drove so far to do this hike, but then again it was an incredible Fall hike that was very fitting to end the season with.
---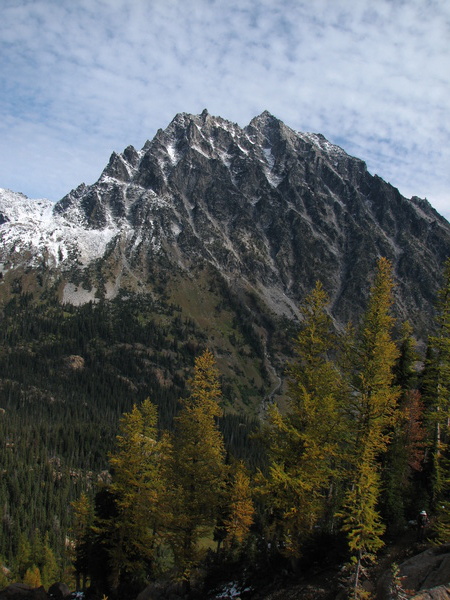 Mount Stuart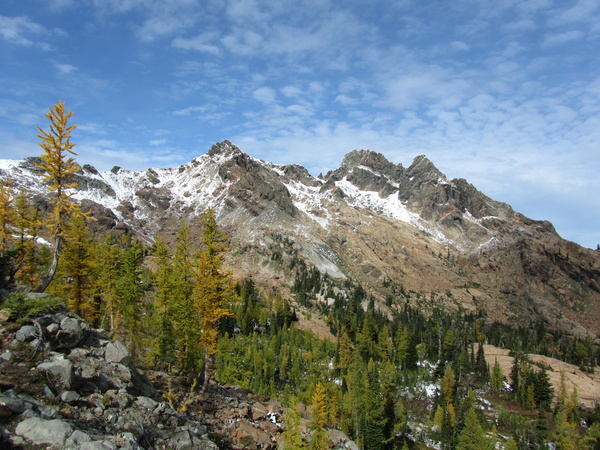 Ingalls Peak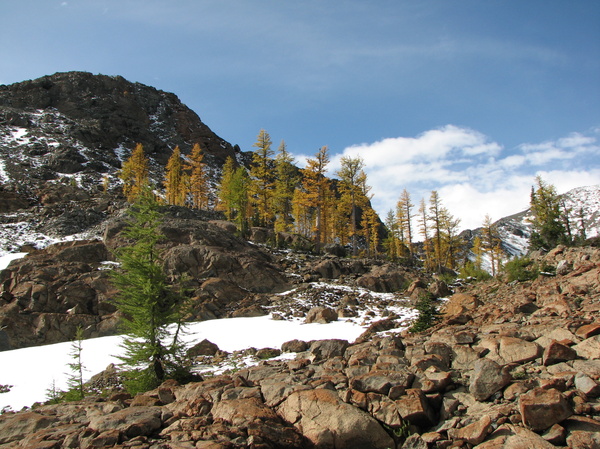 Larch Trees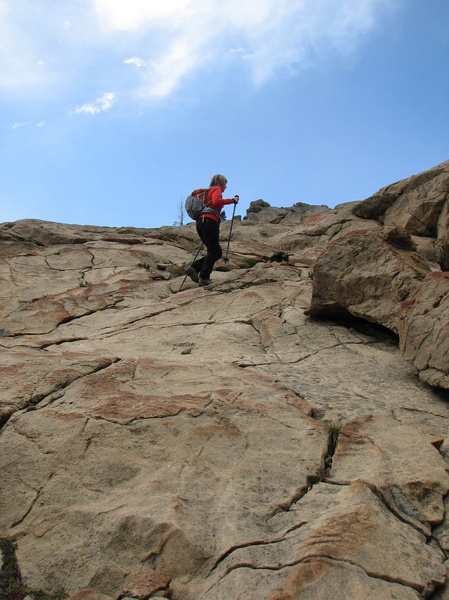 Scramble to Lake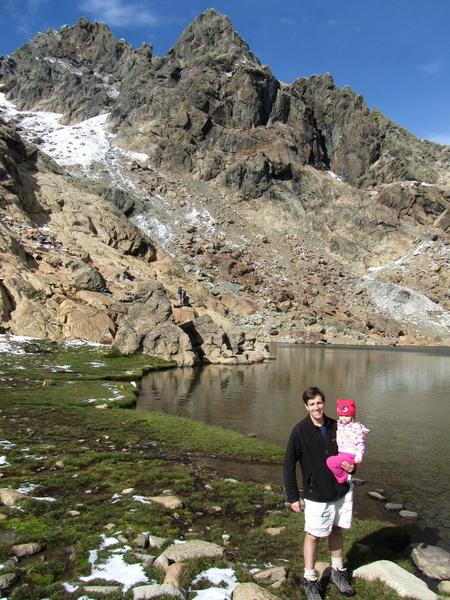 Ingalls Peak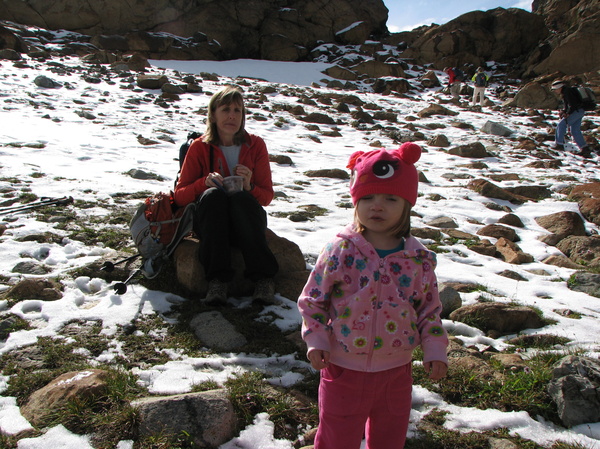 Lunch Break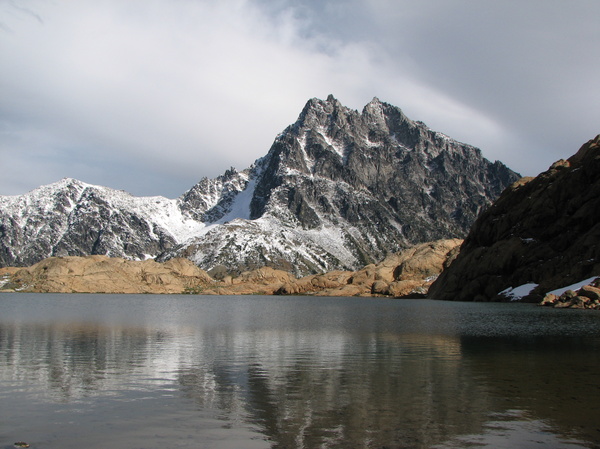 Ingalls Lake and Mount Stuart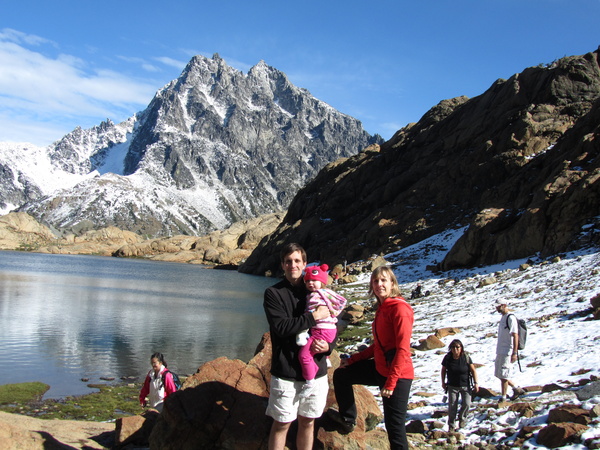 Ingalls Lake and Mount Stuart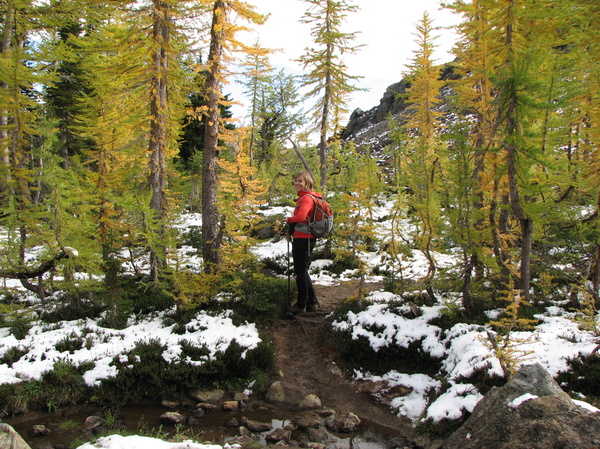 Hike Back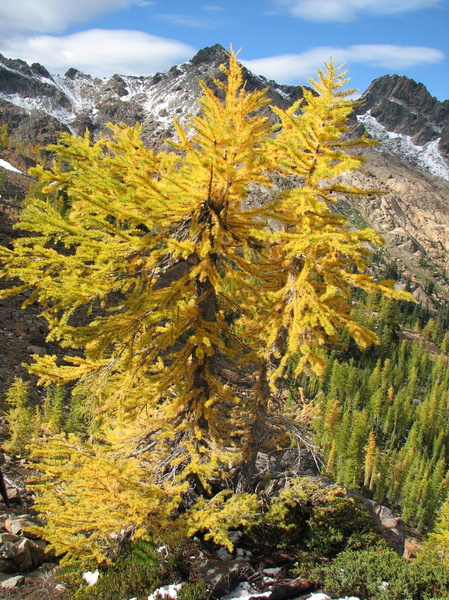 Golden Larch
---
Return to Photo Album Page
October 8, 2011