New Patio

Since I spent most of this spring working on landscaping instead traveling I thought it would be good to devote a page to the work that's been done. When we bought our house in 2003 none of the landscaping had been done. We quickly put in the front yard, but the narrow and hilly back yard has become a never ending project. Over the last four years I've worked on building multi-leveled retaining walls along the length of the property.

With the walls complete I devoted this spring to extending our patio. The project was a bit tricky since I was putting pavers on top of the existing cement patio and building further out. Most of the work involved digging out the extended area and building a small brick wall around it to contain the pavers. It was a challenge to make the wall level in relation to the patio while still having it slope to direct water away from the house. It took a month to do all this alone.

Adding the pavers was much quicker, but definitely not easy. I first filled the extended area with gravel and compacted it down. Thankfully Brad came over for the remaining work. We put sand on top of the old patio and the gravel in the expansion area and leveled it out. Then, one by one, we put down almost 700 pavers. Amazingly there were few gaps along the border wall so I didn't have to cut too many pavers. Once the pavers were laid we then swept sand in the cracks and compacted the patio to lock the pavers in place. One week later I finished up the patio by adhering pavers to the cement step to the house.

The new patio is twice as big as before and it looks great. It definitely acts as an extension to our house. Our next plans are to add a flagstone path and build a pond which should be done next year. We hope to put in french doors to the patio, too. After that we've got a side yard to do. The work never ends, but finally the hard work is starting to show.
---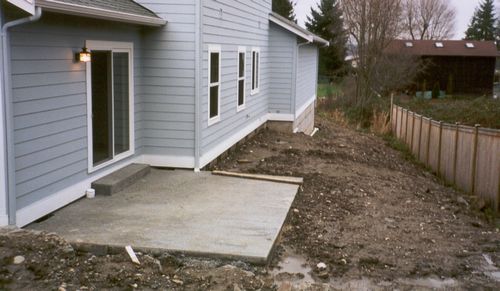 Backyard 2003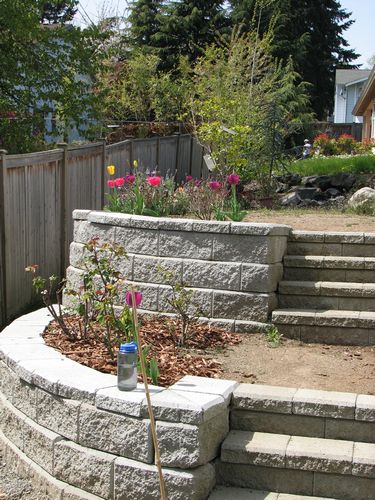 Retaining Walls

Ready for Pavers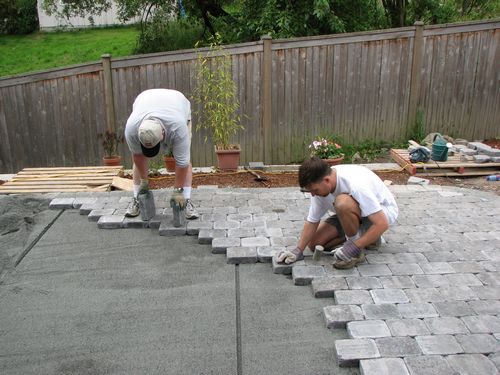 Laying Pavers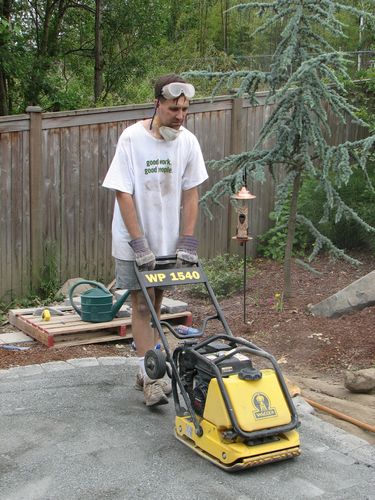 Compacting the Pavers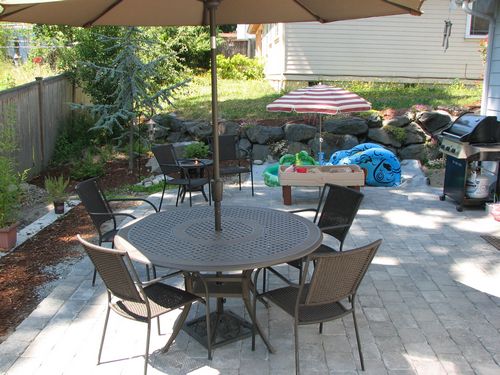 Looking West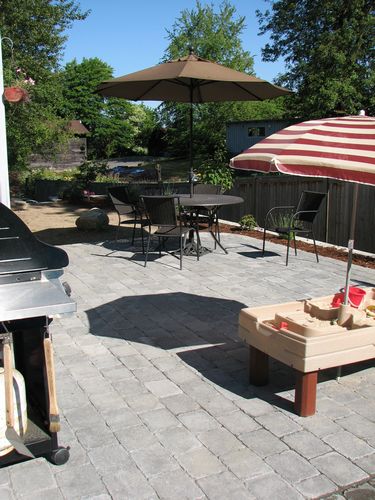 Looking East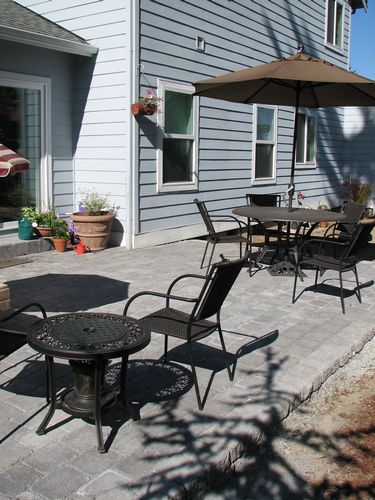 New Patio
---
Return to Photo Album Page
June 2008