Enchantment Lakes - Hiking Day 2
Hiking Day 1 | Hiking Day 2 | Hiking Day 3 | Lower Lakes Part 1 | Lower Lakes Part 2

Our original plan for the second day was to hike to the Enchantments and set camp there. Unfortunately, Jamie didn't feel much better after a night's rest, but she was still willing to push on. Before leaving we took a look at a nearby waterfall which we had heard throughout the night. We also found a family of mountain goats including a cute baby goat. They didn't seem to mind me, but they moved out too fast for me to take a family photo.

After packing up our gear we continued our hike to Snow Lakes, just below the final climb to the Enchantments. On the way up we got some incredible views looking back at Nada Lake. After a mile we reached the Snow Lakes which consist of two lakes - an upper and a lower lake. The trail continued across a small dam between the two lakes. Water was flowing over the dam in some areas which made for an interesting crossing. Jamie was a bit nervous during the crossing but she made it across without incident.

We hiked along Upper Snow Lake and decided it would be best to set up camp at that lake and make the final push to the Enchantments on the third day. Our camp was the most beautiful campsite we had ever had. Snow Lake stretched out in front of us and was bordered by the sheer face of the imposing Mount Temple. Though the area was beautiful, it was unfortunately infested with mosquitoes which made it hard to sit back and enjoy the view. Jamie spent most of the time in the tent, while I fought the insects outside. I believe I won the battle by killing more than bit me, but they still got in a couple dozen bites.
---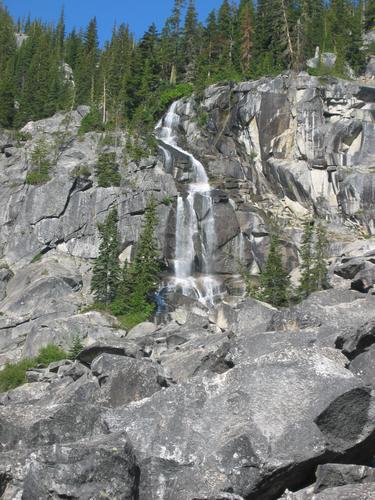 Waterfall near our Nada Lake camp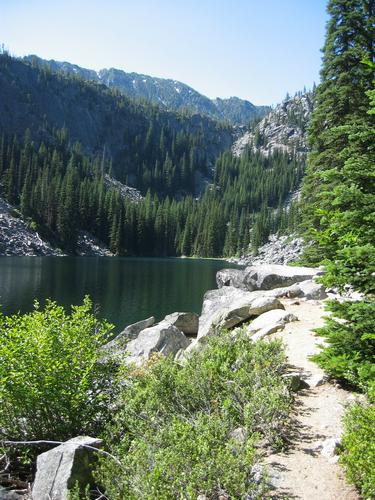 Hiking out from Nada Lake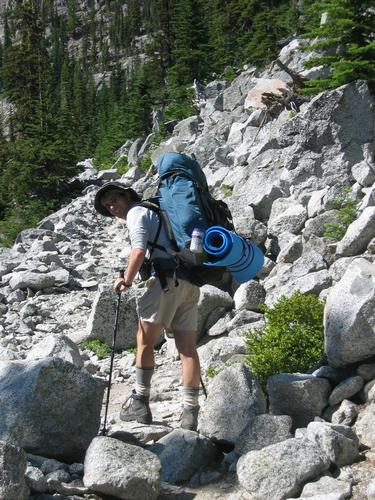 Hiking Through Boulders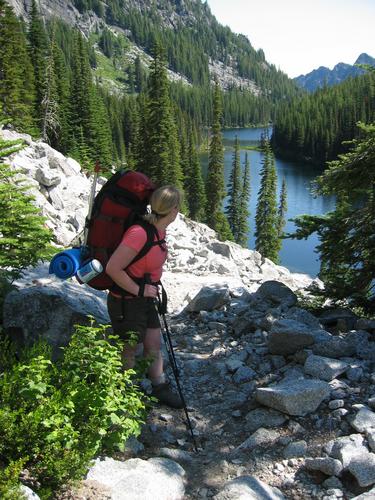 Looking Back to Nada Lake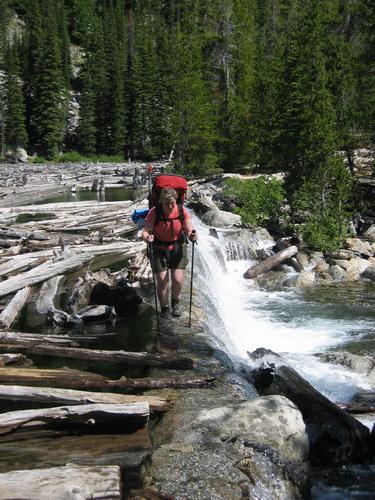 The Dreaded Snow Lakes Crossing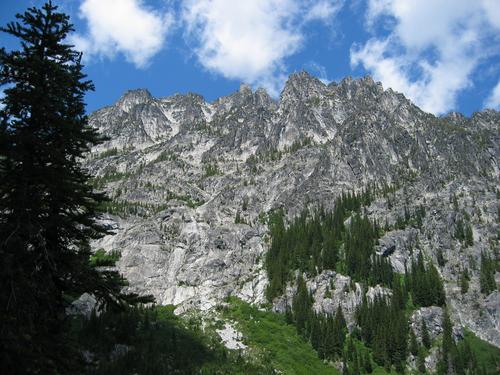 Mount Temple, as seen from our campsite

Upper Snow Lake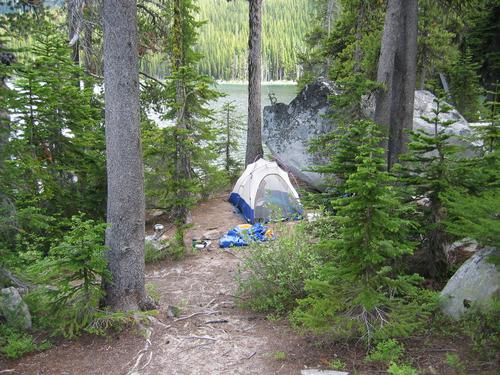 Snow Lakes Campsite
---
Hiking Day 1
Enchantment Lakes

Hiking Day 3
Return to Photo Album Page
July 3-5 2004