Las Vegas Trip #2 - David and Jamie
Originally all Jamie and I wanted to do was visit Kyle at his new home in Albuquerque. Our friends Tom and Marina found out and wanted join in the gathering. Scheduling everyone to fly into New Mexico proved troublesome so we moved the trip to the more centrally located Las Vegas. Another friend, Eric, joined in on the trip and invited several others making for a total of 11 people. It was unofficially called a UW alumni reunion. With so many people and interests involved, trying to make plans was like herding cats. Still, we were able to gather for a buffet at the Bellagio, a comedy show at Harrah's Improv and a late night dinner at the Venitian's Canaletto ristorante.

Though I'm not much of a fan of this city, I was happy to go down with Jamie so she could show me all the fun places she and her mom like to visit. Surprisingly, the most exciting thing we came upon was something she and her mom had been trying to do for years - experience an Elvis sighting and meeting. Not only did we find one Elvis, but two! And posed for pictures! Viva Las Vegas!

On our last night we joined Tom and Marina for a nice dinner at Mandalay Bay's Aureole restaurant. It was very expensive, but it was one of the best meals we have ever had. The restaurant is famous for its four story wine tower. Wine "angels" hooked to harnesses maneuver up and down the tower and retrieve wine for the guests. Unfortunately, we only got a brief sight of them, but the tower itself was still impressive.
---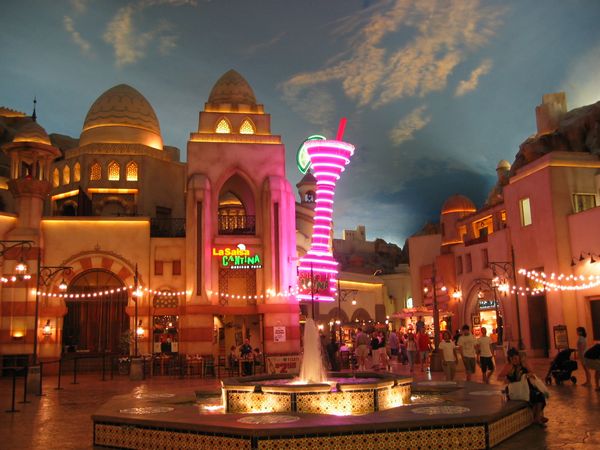 Aladdin's Desert Passage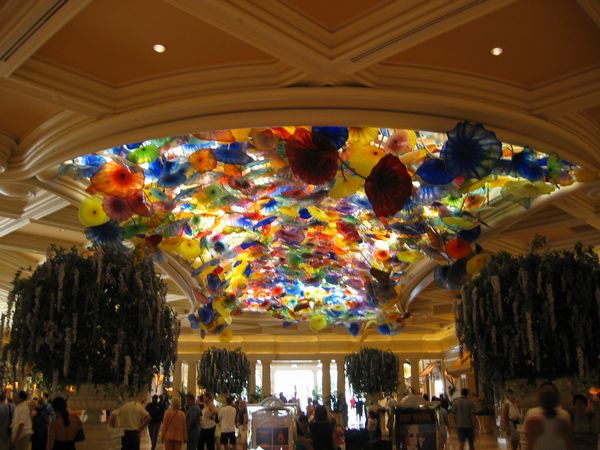 Chihuly Glass at the Bellagio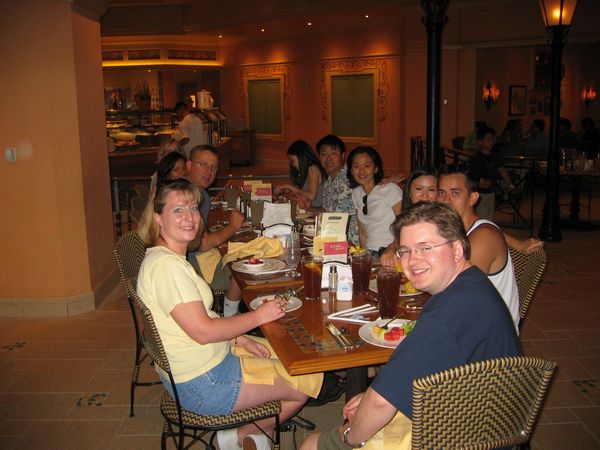 Bellagio Buffet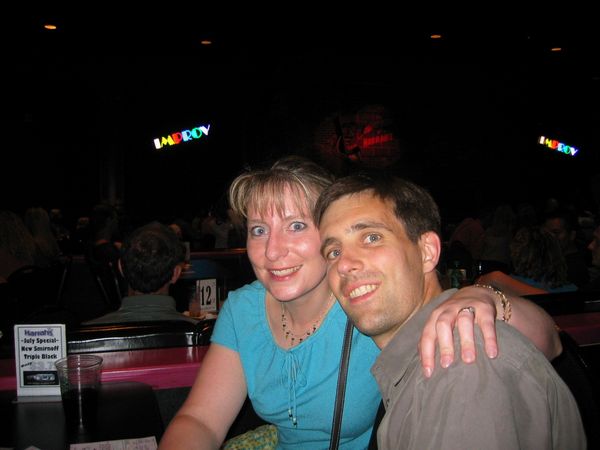 Harrah's Improv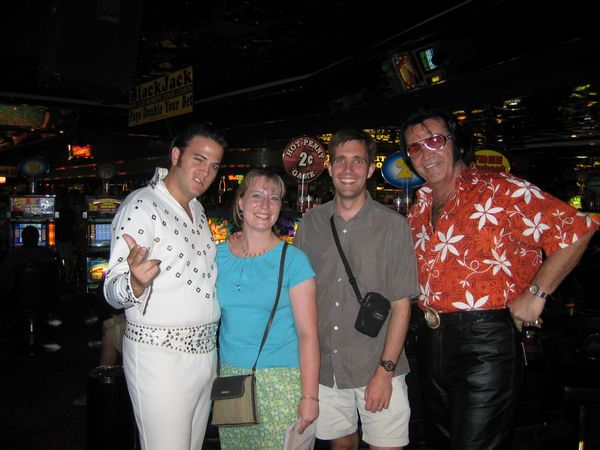 Elvi!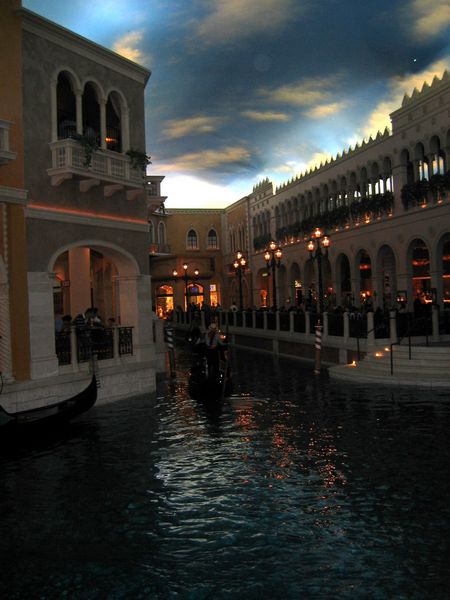 Canal inside the Venetian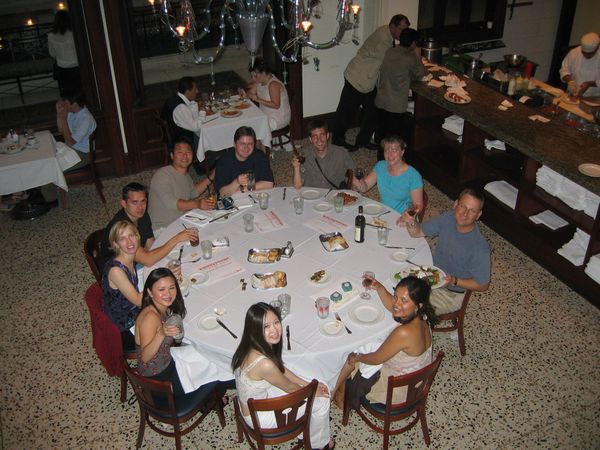 Late night dinner at Canaletto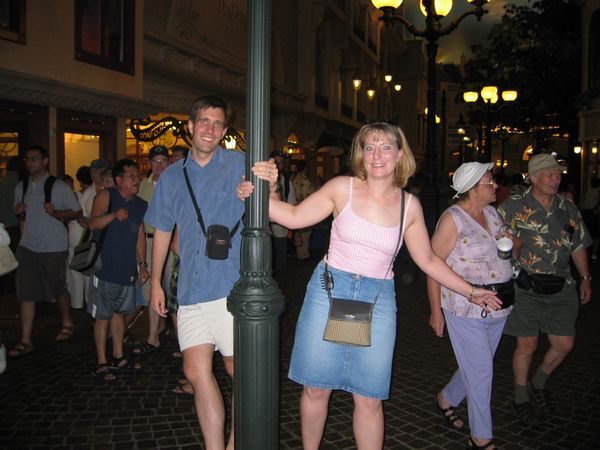 Strolling the streets at the Paris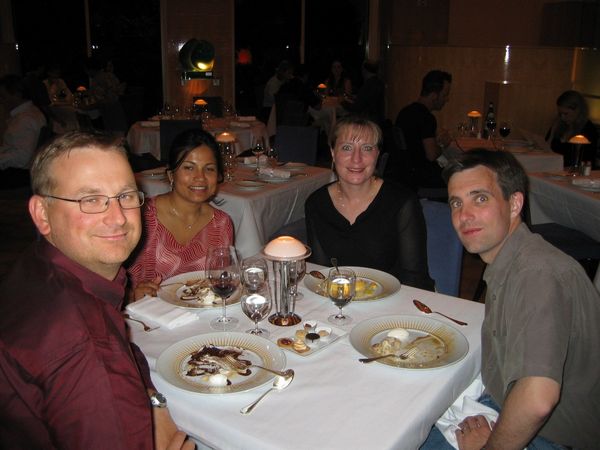 Dinner at Mandalay Bay's Aureole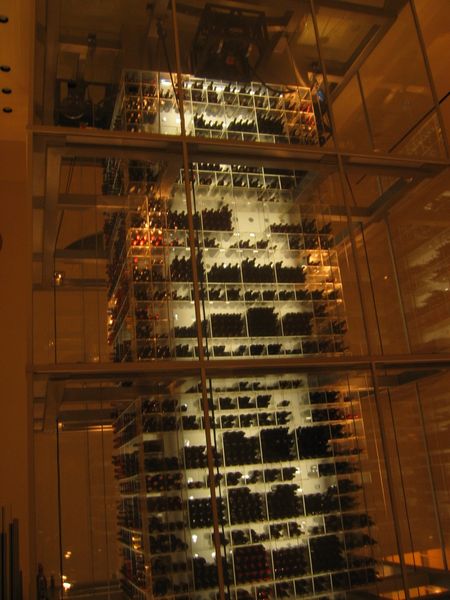 Aureole Wine Tower
---
Return to Photo Album Page
August 1-4, 2003