Mother-Daughter Camping Trip: IX
Ten years ago, my mom and I headed out for a day at Ocean Shores. We threw the tent and some sleeping bags in the car in case we were having too much fun to come home. We were. We pitched our tent near Copalis Beach and dined on Twinkies & wine coolers vowing to get away together every year. And thus was born the Mother-Daughter Camping trip. The next year we camped near Belfair and it rained. That was no fun so the following year we headed to Reno. That was fun, but we knew we could do better. From then on it was Viva Las Vegas! We have some basic rules for our trips. 1) Just the two of us, no schedules, watches or meeting with others, 2) eat when we're hungry, drink when we're thirsty, sleep when we're tired and just have fun together the rest of the time, 3) "camp" in a different casino every year. To date, we have "camped" at the New York New York, Excalibur, Paris, Imperial Palace, Treasure Island, and this year was a stay at the Tropicana. We had a terrific time playing in this desert oasis.
---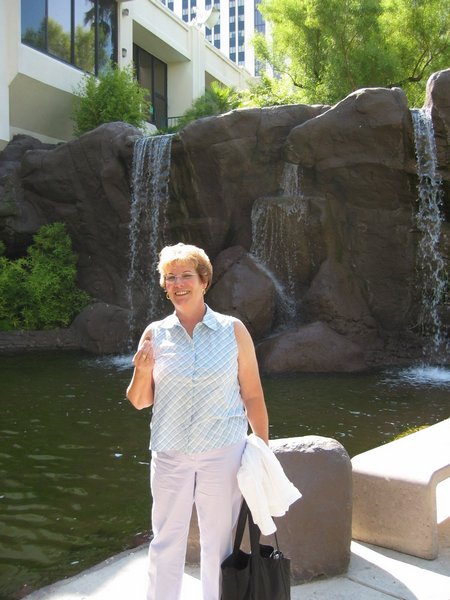 Sandy posing in front of a tropical waterfall shortly after arriving at the Tropicana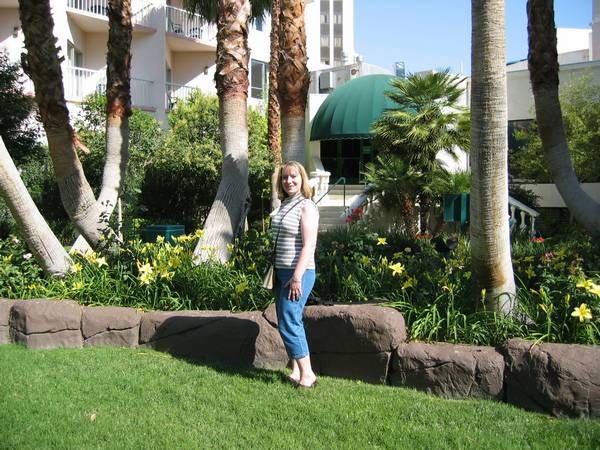 Jamie posing in front of a grove of palm trees in the Tropicana's gardens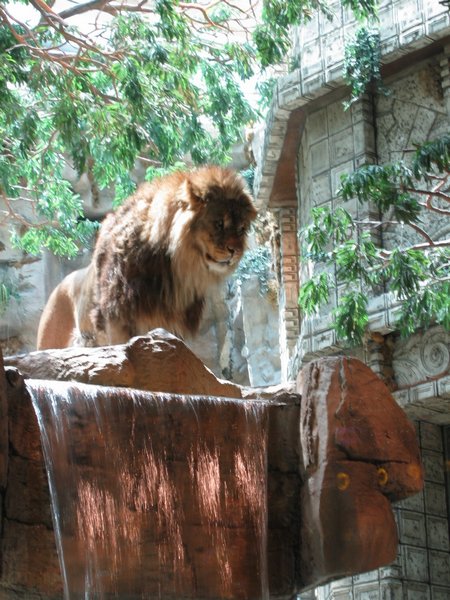 One of our adventures took us to the MGM Lion Exhibit where we got to watch the lions playing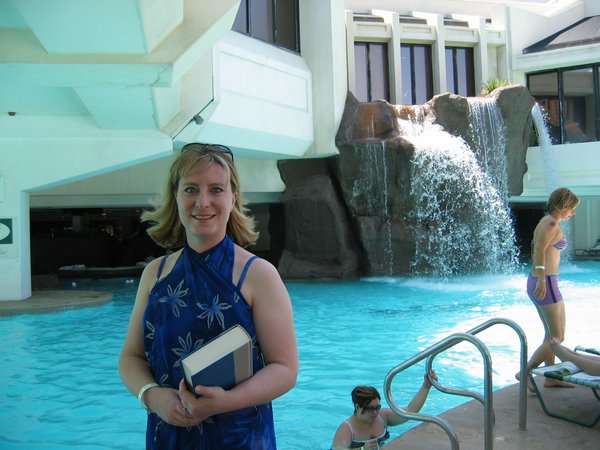 Jamie ready for some serious pool time reading. Jamie is holding a one day old copy of the much anticipated Harry Potter and the Order of the Phoenix. Sandy had her copy, too. In fact, there were several people at the pool (grown-ups) with the Harry Potter book.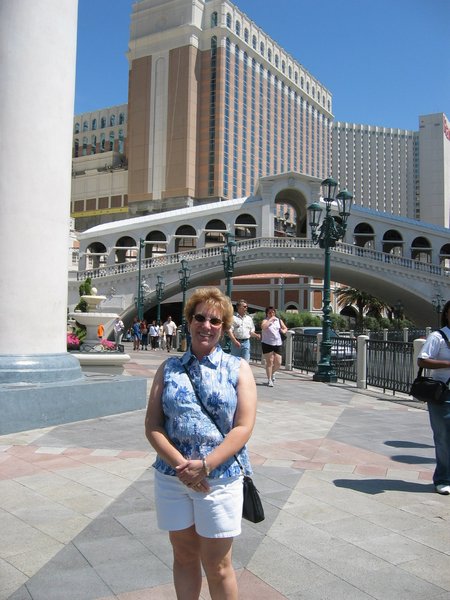 Sandy posing in front of the Venetian's version of the Rialto Bridge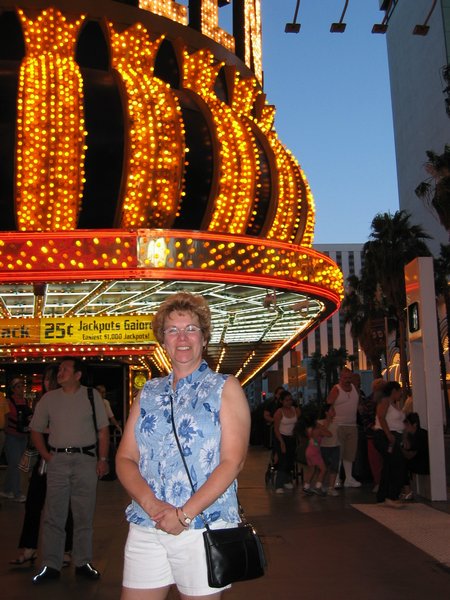 Sandy in Old Town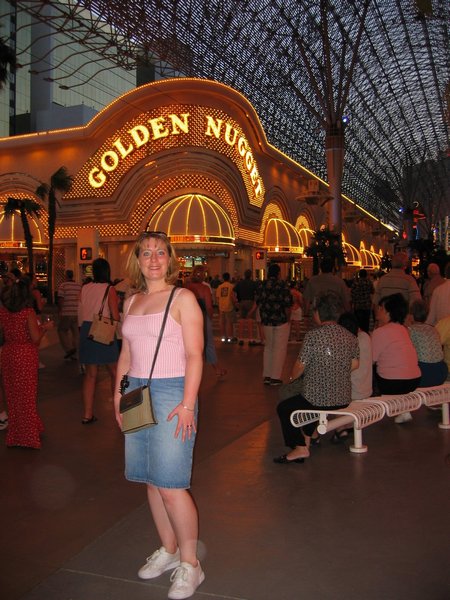 Jamie in Old Town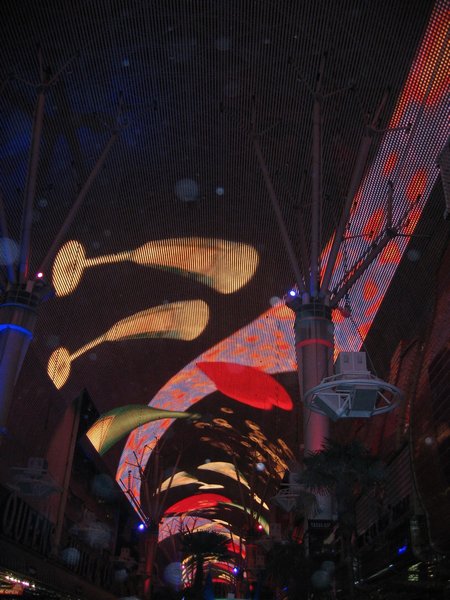 The famous Fremont Street light show - we had a great time dancing in the street with everybody else to the great music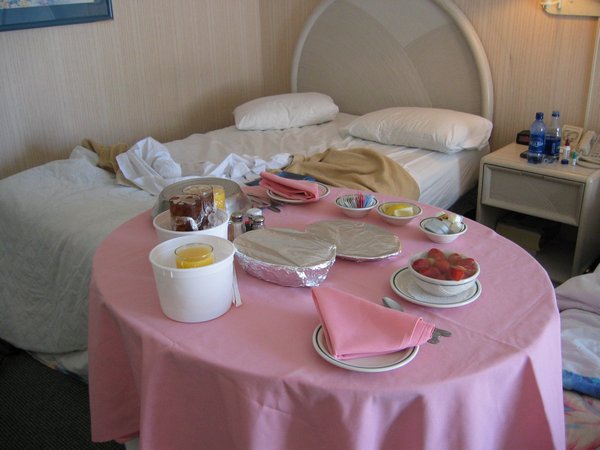 What camping trip would be complete without a first class room service breakfast?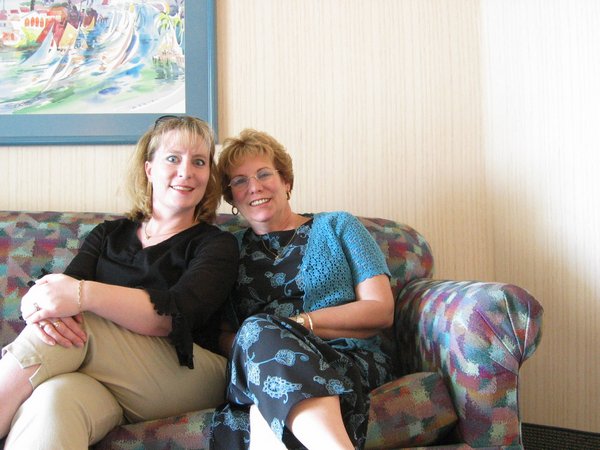 Ready for a day of sightseeing, shopping, dining and maybe even some gambling.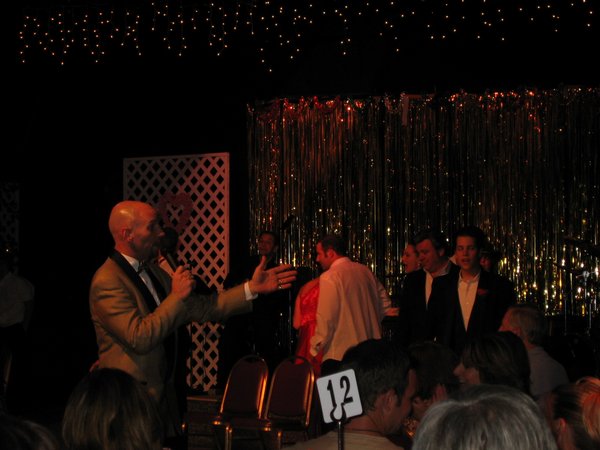 We decided to go see a show while we were in Vegas. O! was our first choice, but it was closed during our visit so we went to an interactive dinner theater show called Tony & Tina's Wedding at the Riviera. We interacted with the characters, waited in line for the buffet and even had wedding cake.
---
Return to Photo Album Page
June 22-24, 2003