2001 Hood to Coast Relay Race
---
In August, after months of training, I ran in the Hood to Coast relay race. The event is a 195 mile relay race across Oregon. It begins at Timberline, on Mt. Hood, and ends at Seaside, on the ocean. I ran as part of a 12 person team. My sister (Julie), her husband (Willie) and others from their work were part of this team. The race was broken down into 36 legs. Each member of the team ran three legs at an average of six miles a leg. In order to give members of the team some rest, our team traveled in two vans. I choose to run in the second leg so I started in the first van.

One thousand teams participated in the race so the start times were staggered throughout Friday, August 24. We were unfortunate to start at 7:30 p.m. in one of the last waves. The start line was at 6,000 feet on Mt. Hood. It was a beautiful day, but still a bit chilly. Hoyt started for our team and ran well on the very brutal first leg of the race which travels down the steep curvy mountain road. Within half an hour it was my turn. My first leg was all downhill and I was treated to views of the mountains and foothills near Mt. Hood as the sun was setting. I ran a 6 minute 40 second pace which was the fastest I have ever ran, but I passed no one and was passed by many. As the road started to level out, I handed off to my sister and took a break in the van. After all six of us had completed our legs, mostly in the dark, we handed off to the second van and took a break.

My next leg didn't start until 4:00 a.m. on Saturday. On this leg I ran through an industrial section of Portland that was mostly flat and completely dark - a totally different experience from the first leg I ran. After the group in our van completed their legs daylight was upon us and we headed to a local school for refreshing showers and breakfast.

My final leg was on Saturday afternoon and it crossed forested farmland. It was mostly uphill and I was wiped out during the entire leg, but I maintained my pace and even passed some people. I happily handed off to my sister for the final time. Soon afterward, my muscles tighened up and it was difficult for me to walk, but I successfully completed my part of the race.

The race ended at Seaside, Oregon and the place was one giant beach party with all the teams waiting for their final runner to complete the race. The goal was for the team to wait for the final runner to near the finish line and then the whole team would run together to finish the race. Unfortunately for us, our last runner didn't see us waiting for him and raced on past us. With our sore muscles we couldn't catch up with him.

Overall, we did well in the race, completing it in under 25 hours. We finished 191st of 981 teams who completed the race and finished 22nd of 84 for our division. It was the first time I had ever ran 18 miles in one day and though I was very sore afterwards I still had a great time.
---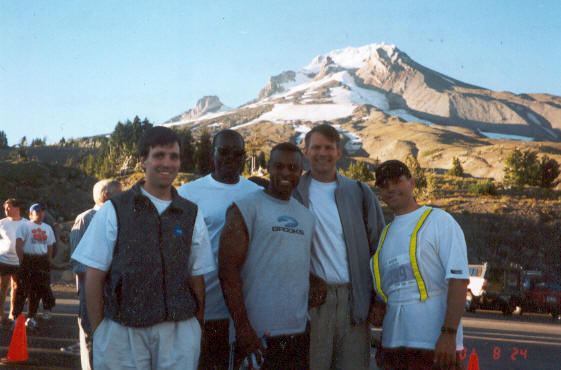 Team BofA (first van) at the start line - Me, Willie, Earle, Harry and Hoyt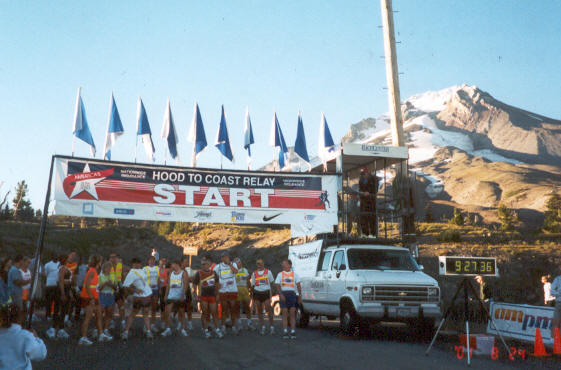 Starting line at Timberline on Mt. Hood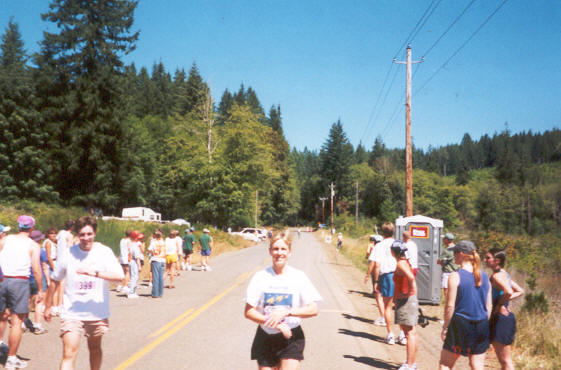 End of my last leg (I don't why my sister or I were smiling)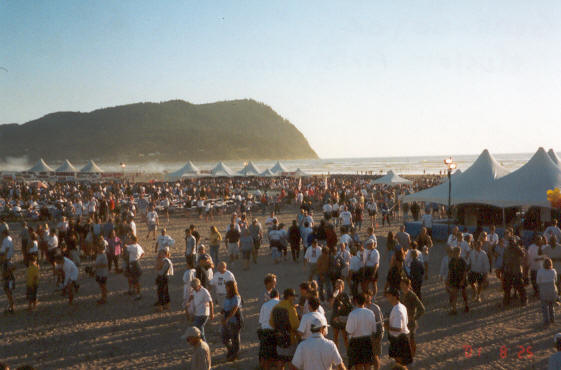 Finish line at Seaside, Oregon
---
Return to Photo Album Page
August 24-25, 2001