Glacier Peak Climb (10541')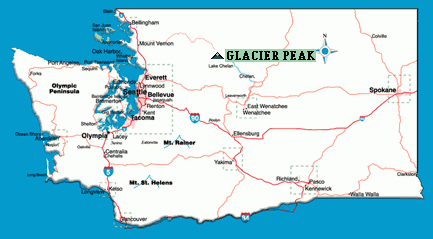 ---
During July 10-12, I climbed Glacier Peak in the North Cascades with eight other Mountaineers. This was a very grueling glacier climb, but fortunately the memories of the pain have subsided and I am now glad that I was able to summit this mountain.

Even though Glacier Peak is the fourth highest mountain in Washington, rarely does one get a good view of it. After hiking nine miles we finally got our first sighting of it. The below picture shows Sitkum Spire which blocks the view of the summit.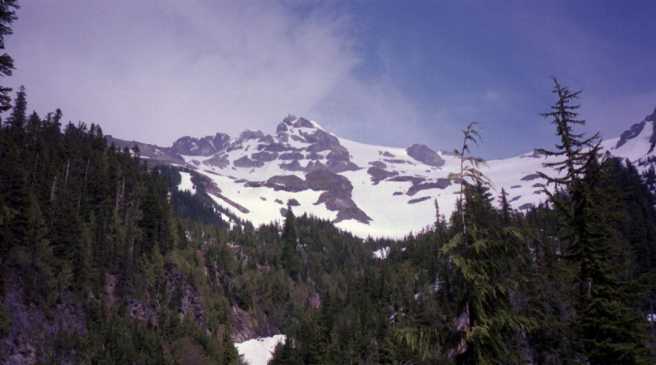 Glacier Peak from trail
On our first day we camped at Boulder Basin which, in the previous photo, is the snow field below and to the right of Sitkum Spire. I was suffering heavily from my 50+ pound pack, blisters on my feet and the steep nasty climber's trail on the last part of the hike. Boulder Basin was a very welcome paradise to me with its flat open snow fields and alpine waterfall flowing nearby.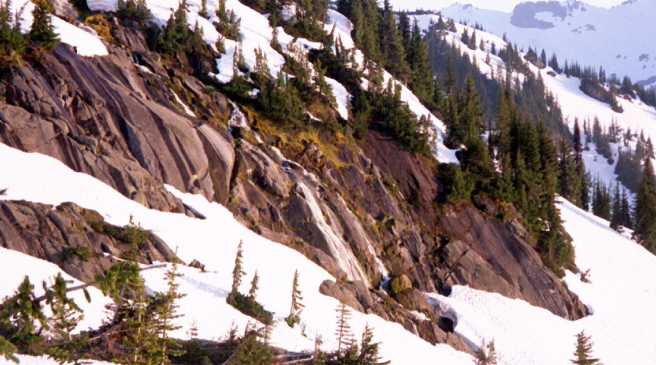 waterfall at Boulder Basin campsite
My tentmate and I were so wasted that we could barely get enough energy put up our tent and make dinner. Once we got everything together we were rewarded with a very beautiful sunset from our tent.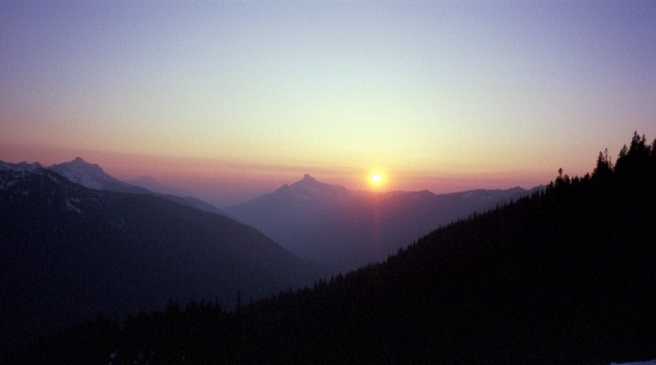 sunset from tent
We got up at 4:00 a.m. the next morning and began our climb up to Sitkum Glacier. After a short while of climbing I turned around to look East. Mt. Baker was illuminated with a pinkish glow from the rising sun.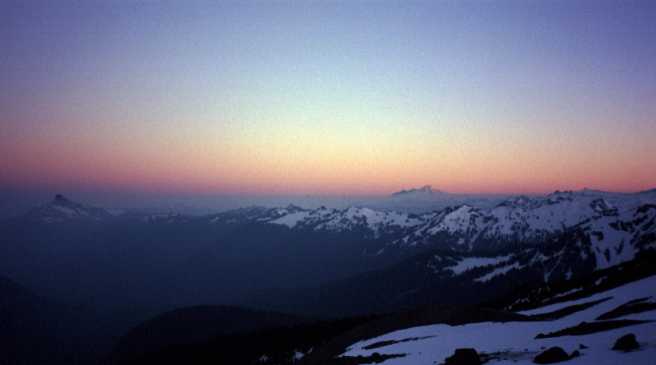 Mt Baker during sunrise
The climb up to Sitkum Glacier was very laborious with each step being tiresome. Though my pack was lighter, the high altitude did not help things. The following photo shows our entire group climbing up the glacier. I was the last person on the last rope team.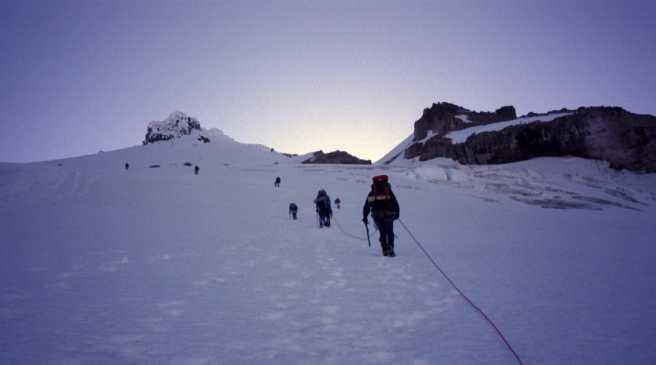 Sitkum Glacier
I looked forward to every break we took. Along with getting rest we got some incredible views of the Cascades. This photo shows my group taking a break with Mt. Rainier to the south.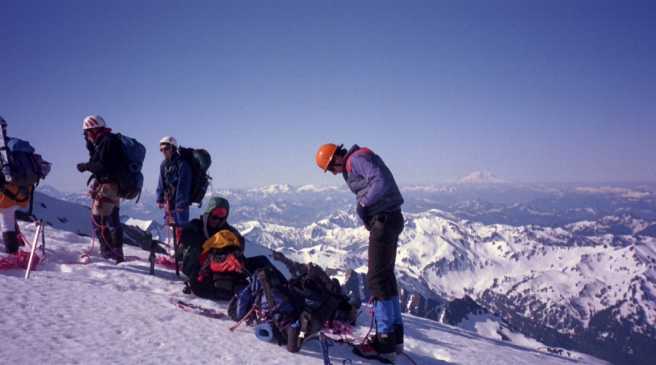 rest break
We crossed the Sitkum Glacier and, thanks to last winter's heavy snowfall, no crevasses could be found. We headed off the Glacier at about 9000 feet and then climbed up a steep rocky ridge toward the summit.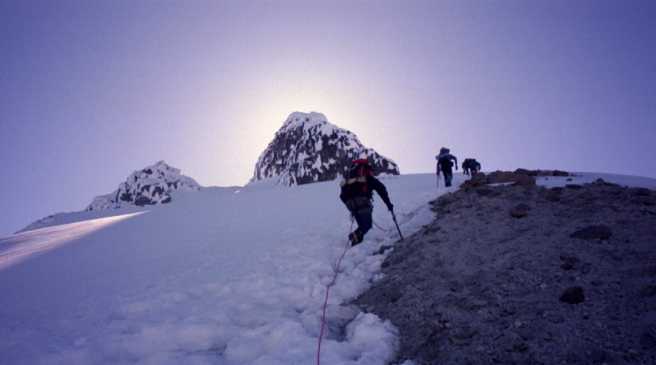 rock ridge
After heading up the ridge, we finally got our first true view of the summit. To get to it, we had to climb up a steep snowbank to a saddle. The true summit is to the right of the saddle.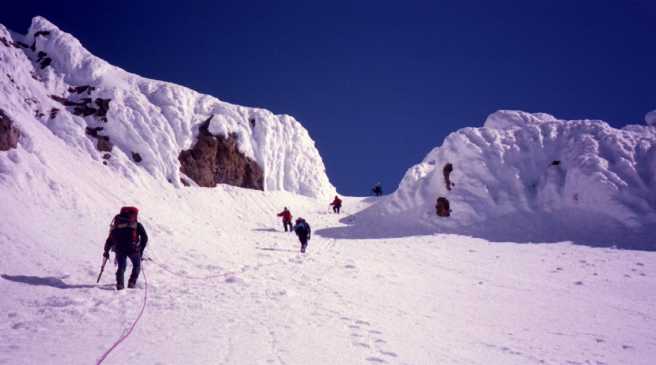 saddle to summit
After one final steep pitch we made it to the summit. We were greeted by high winds and a 360 degree view of the Cascades. The final photo is of Don (our trip leader) and me at the summit.
Glacier Peak summit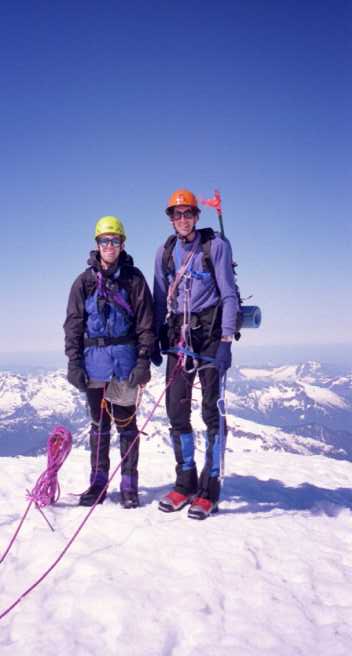 at the summit
After summiting, our climb was only halfway done. We had to climb 5000 feet down to our tents, break down camp and hike four miles down to the Kennedy Hot Springs camp. Here we camped for another night, but only after taking advantage of the natural hot springs close to camp. On the last day we got up bright and early and hiked the final seven miles back to our cars. It was a tough trip, but a very beautiful and memorable one.
Return to Photo Album Page
July 10-12, 1999