Eagle Peak Hike
---
In September my sister, Jamie and I went on on six mile hike to Eagle Peak just south of Mount Rainier. Though views of Rainier were obscured by clouds we were treated to some beautiful and fasinating scenary near the end of our hike. When we hiked above the freezing level we came upon a forest of frosted white trees. There was very little snow near the top, but the wind had made some interesting frost patterns on the trees.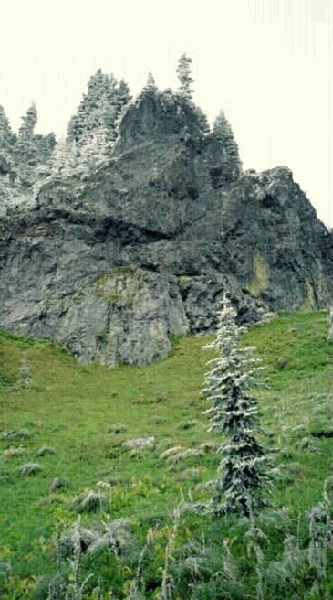 Eagle Peak false summit
---
There was no trail to the summit, but a small ledge twisted its way around the frosted peak. I had no climbing gear and decided to stop fifty feet short of the summit. The ledge near the top was narrow and had a steep drop off. In this picture Jamie and Julie are leaning against the wall because the ledge falls off just a couple feet in front of them.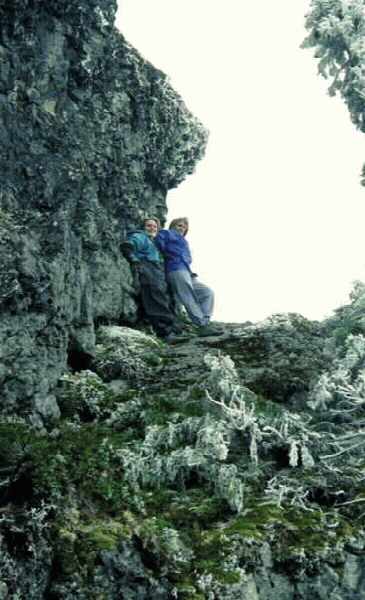 Jamie and Julie near summit
---
Though we were unable to summit we still were able to find some fun areas to explore. Note Jamie and Julie at the top of the cliff in the next picture.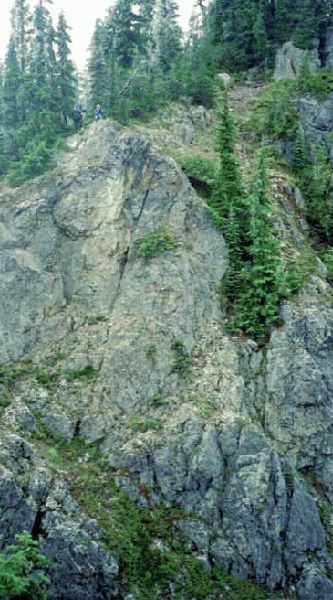 Jamie and Julie near saddle
---
September 18, 1999